Chiropractic Equipment
ADVANCED MEDICAL EQUIPMENT OFFERS ALL TYPES OF CHIROPRACTIC EQUIPMENT AND SERVICE
From simple Film processing to top of the line Digital X-Ray Systems and Chiropractic Tables. We can handle, supply, and install any size job.
We also offer a large line of refurbished systems.
CONTACT US TODAY TO SEE WHAT SYSTEMS ARE RIGHT FOR YOUR CHIROPRACTIC OFFICE
---
---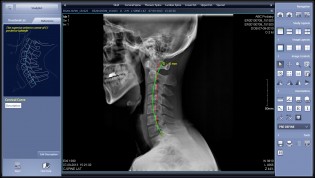 Chiropractic X-Ray Equipment
From small clinics to large offices, we can get the Chiropractic X-Ray and Digital System that you need or want and at a very competitive price. Call us or fill out our contact form and we will help you select the proper system for you facility and budget.
---
Chattanooga Shockwave Intelect® RPW 2
The Intelect® RPW 2 brings the next generation of shockwave therapy to the treatment room using Radial Pressure Wave technology. Designed to activate connective tissue from the surface level to difficult-to-reach pathologies, the new Intelect® RPW 2 is a modality for addressing pain and inflammation in orthopedic conditions.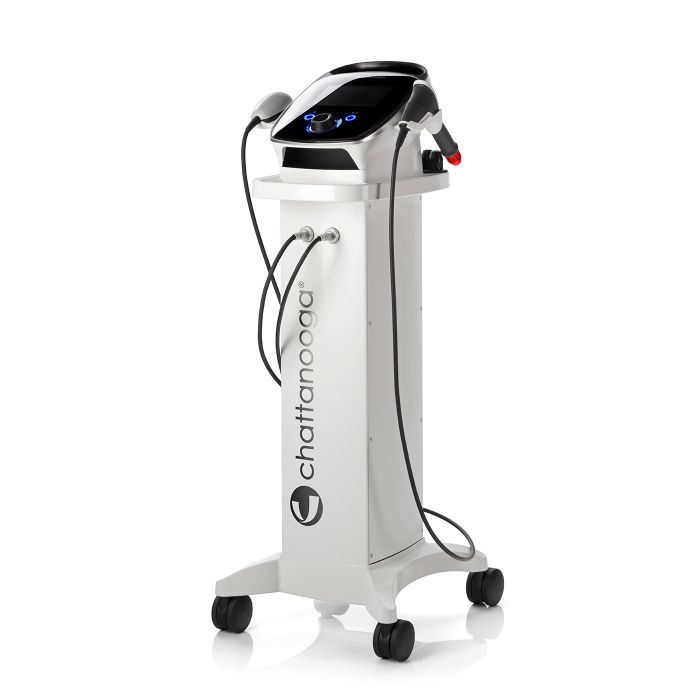 ---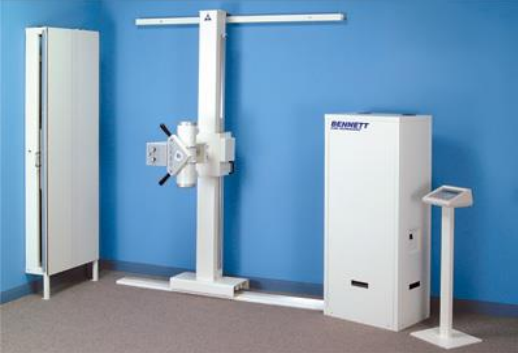 Bennett High Frequency X-Ray Equipment can Easily be Converted to DR Digital Imaging
DC-1 systems lead the profession and meet the unique application requirements. Complete spinal imaging is easily performed without re-positioning the patient.
Examples of popular options to the DC-1 include allowing for easy operation. These generators include anatomical programming software that:
Eliminates the need to set all technique factors.

Automatically selects the lowest kV to maximize contrast on each image.

Utilize techniques proven through years of use and provides specialized chiropractic weight-bearing views.
Chiropractic Adjusting Tables
We offer all the various types of chiropractic tables. From adjusting to therapy, we have the table you are looking for.
Inquire about what you are looking for and we can get the best table to meet your needs and budget.
---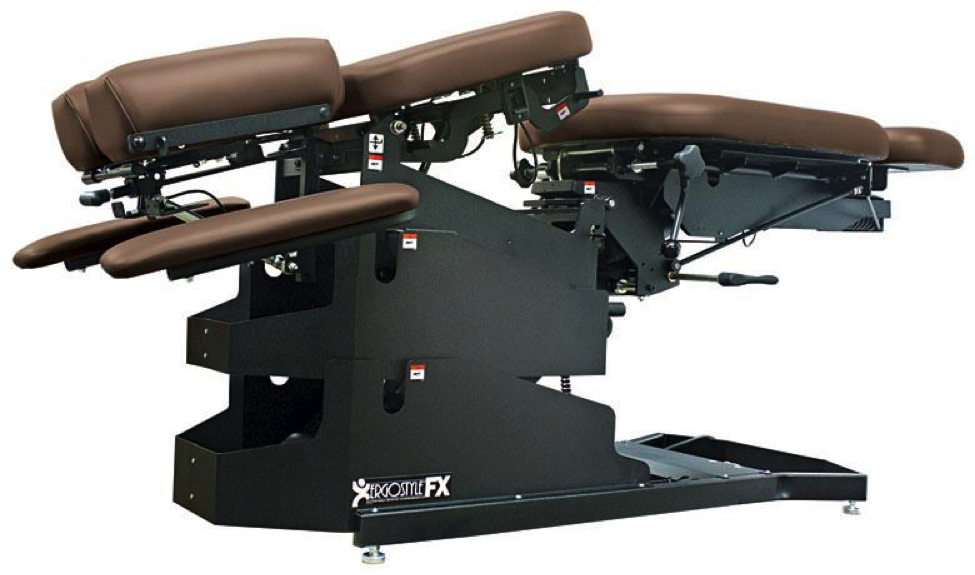 ERGOSTYLE FX - ES5820 Flexion Table
Base Table Features
Electric Elevation from 19" to 32" with single foot control and expanding covers over lifting mechanism
Manual Flexion/Distraction (flexion, 15 degrees; extension, 12 degrees; side bending, 40 degrees total)
Tilting Headpiece with Adjustable Face Cushions
Extending Self-locking Ankle Rest with Ankle Cuffs
Wide Seamless Cushions (23.5"), with multidensity foam
Hill Air-Drop HA90C Chiropractic Table
Base Air-Drop HA90C Standard Features
Height controlled by Rocker Foot Pedal
Height Range Standard: 21.5" to 31" (see options below)
Width 24", Length 6'3"
Armrests, 13" Face cut-out, Paper Roll, Cutter
Air-Powered Thoracic Spring Breakaway
Air-activated Cervical, Thoracic, Lumbar and Pelvic drops (see short video)
Tilting Headpiece, 30° Positive and Negative Tilt
Power Foot-Strips (activate drops)
Drop-Away Foot Section
Choice of 20 vinyl colors for the top
Beige, Grey or Black thermo-plastic base cover with Microban® Antimicrobial Protection
One-year warranty on all parts (Dealer on-site labor warranty may vary)
---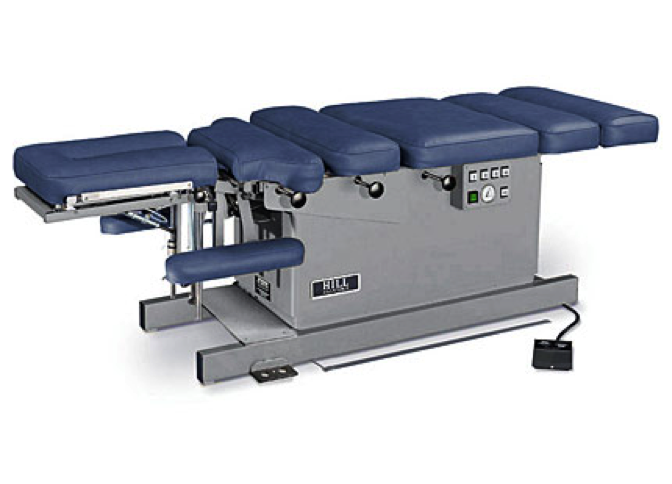 ---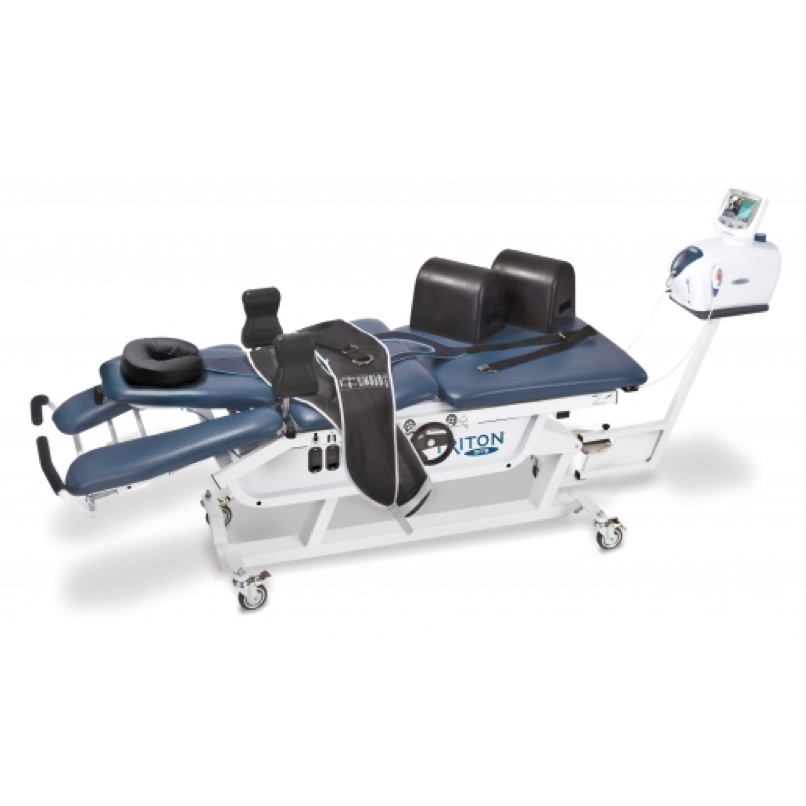 Triton DTS® Advanced Traction System Accessory Package
Triton DTS systems includes the state-of-the-art Triton DTS Traction Unit, and our exclusive QuikWrap™ belting system. The inherent flexibility of the Triton DTS Basic System allows clinicians to treat a wide variety of back conditions.
---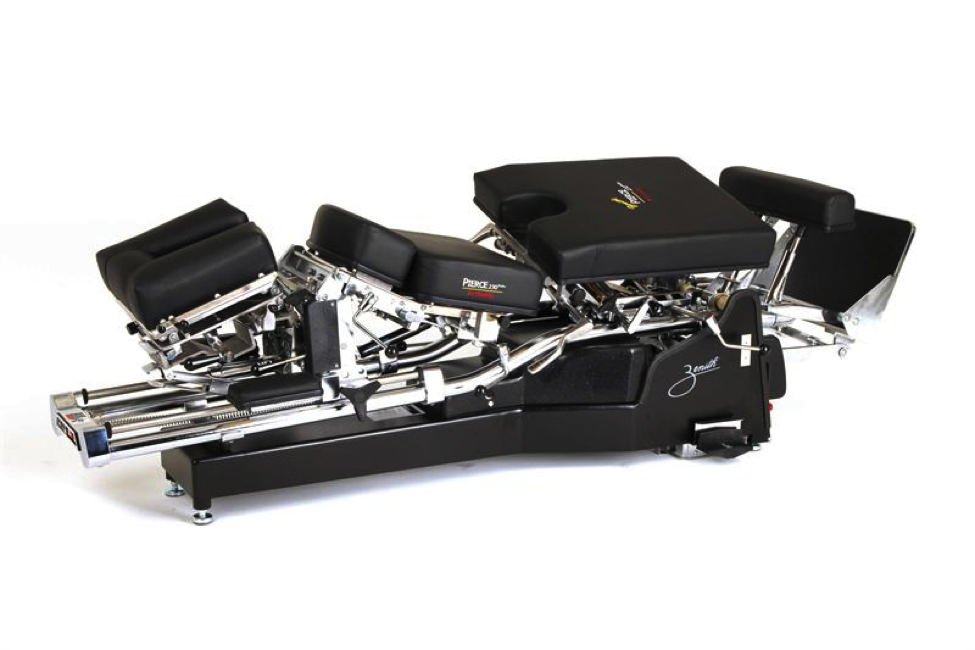 230-Plus Zenith PIERCE Hylo Adjusting Table
NEW ... This efficient hylo table incorporates our unique Key Dimension headpiece, 4 drops and a specially designed and constructed Key Dimension Pelvic Positioning section suitable for both instrument and manual adjusting. When coupled with our exclusive headpiece designed for positioning patients for 3rd dimension and cervical circumduction correction, you will feel the difference, and your patients will request the 230-Plus Zenith Hylo for their next treatment.
---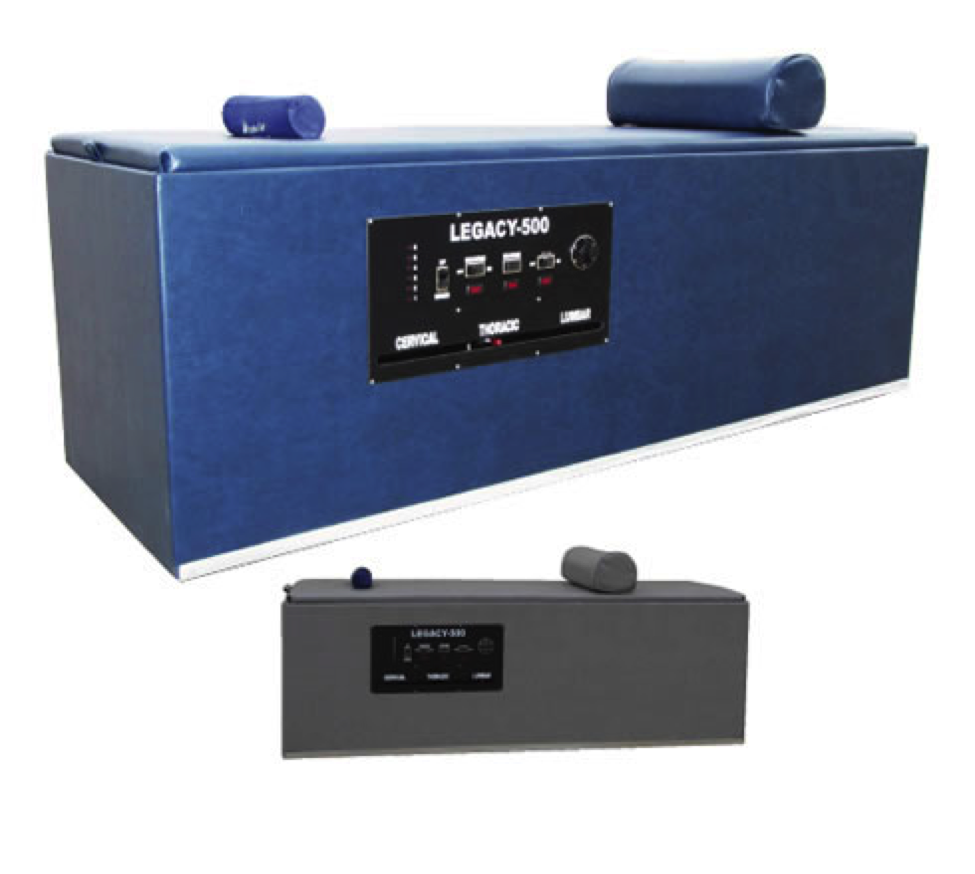 Legacy-500 Intersegmental Traction Table
The Legacy-500 is specially designed to release muscle tension and deliver a soothing massage. Under the thick, soft, padded top, three large rotating rollers travel the back to release tension and relax tired muscles.
Chiropractic Therapy Equipment
Looking for an electronic therapy system for your chiropractic practice? We have what you need, from light therapy to heat to stim to massage, we have access to all the leading manufacturers and the best prices.